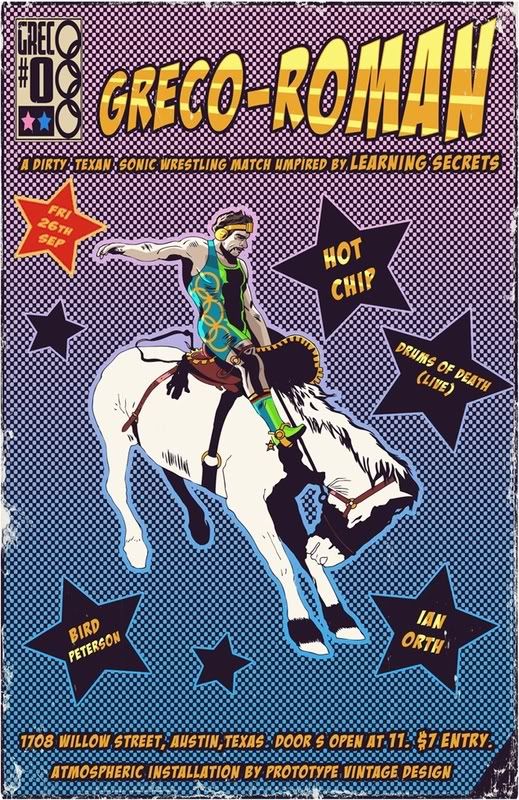 You're probably asking yourself "what the hell is GRECO-ROMAN?" Don't feel bad, I had no idea until a few hours ago. So before I write anymore... Read this.

A series of sporadic, chaotic parties organised at the last minute in random venues, in different cities. Taking inspiration from the homo-erotic olympic sport favoured by Eastern Europeans and frat boys, we don leotards and fight it out for supremacy... Hot Chip vs Ross Allen, Buraka Som Sistema vs Drums of Death, Grovesnor vs David E Sugar, Raf Daddy vs Full Nelson, Dom vs Jez, London vs Berlin, Rock n Roll vs Acid House. We specialise in rooms of less than 30 people, 2 decks working at the same time is merely a bonus. Such are our skills of communication that you will probably hear about each party after it has already happened, but you will still tell all your friends you were there. Or maybe its deliberate... the only way to find out about our parties is via myspace, email or SMS; you will rarely see a poster, flyer, magazine listing or review for any of our parties and thats the way we like it. Nor is this a money-making operation: the small amount we do make at our parties goes back into our mix CDs, our fledgling record label, our t-shirts and our totally dope towels, most of which we give away. And strictly NO sponsors... i mean get your fingers out of our pie you wiley marketing scum! So hats off to all the people who play for next to nothing for making it happen, except Noze who like to keep their hats on. As do the police who can be a bit of a problem. See you down the front, its right next to the back anyway.

Now that you're in the know... get excited people. This is some serious shit coming to our town... and if you think there is a single excusable reason for missing this one, than you're absolutely out of your mind.

CHECK OUT THEIR MYSPACE... and see you there.